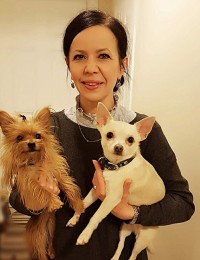 Dr. Ronowicz graduated from the Agriculture University Department of Veterinary Medicine In Wroclaw, Poland in 1996.
She obtained her licence to practice veterinary medicine in Ontario in 2006.
After 15 years at Applewood Veterinary Hospital, she continues to practice small animal medicine as a locum Veterinarian at different Veterinary Hospitals in the GTA, and is currently working part-time at Ostrander Animal Services. She's had the pleasure of working with small animals providing preventative care and surgeries.
Dr. Ronowicz has 13 years old rescue cat named Kama and a silly little Chorkie named Bibi who is ball obsessed and a bundle of energy.
On he days off she loves long walks with her dog, and any outdoor activities such camping or hiking.